Encapsulation Materials for Micro LED Displays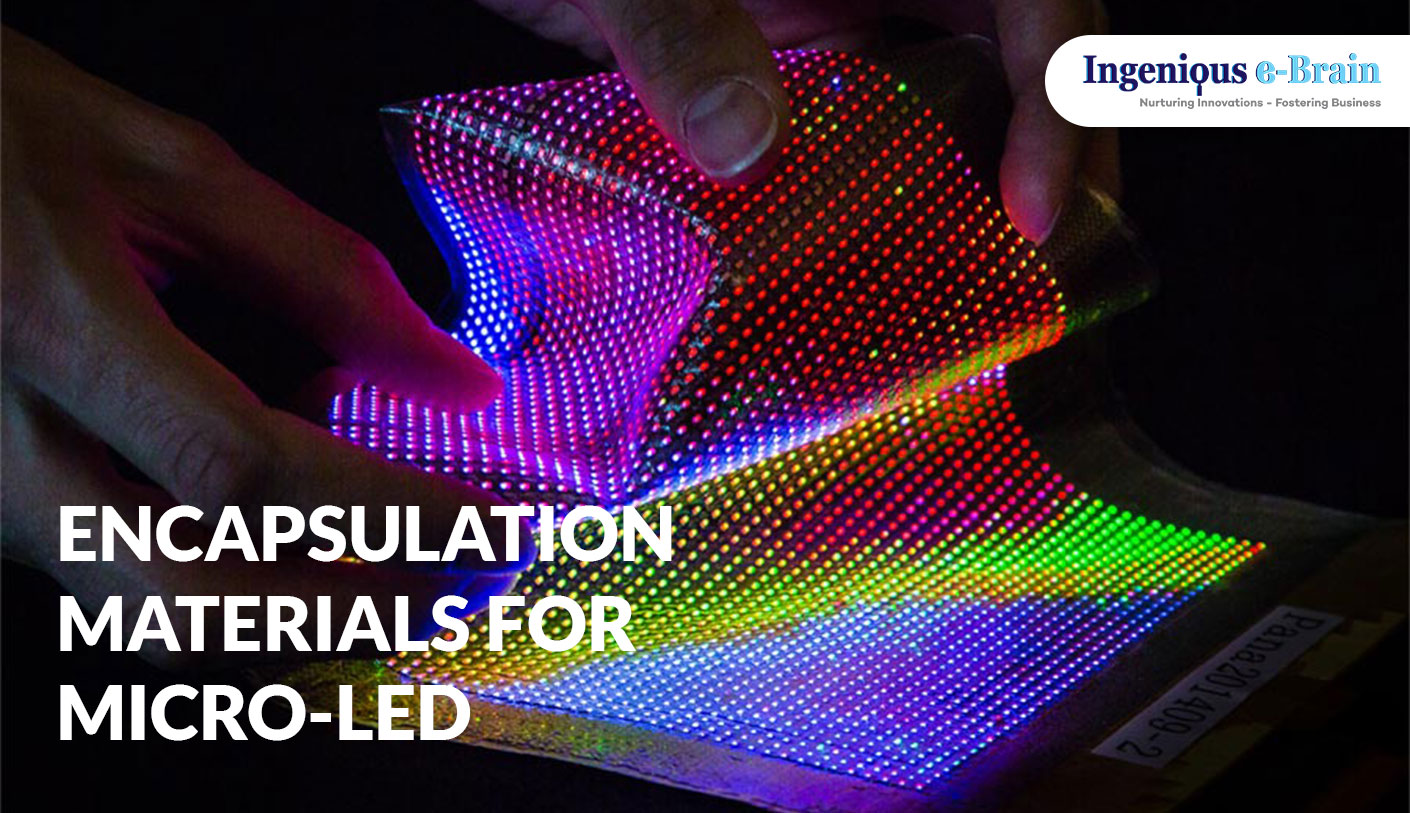 Introduction:-
Packaging is critical in Micro LED technology because it protects the LED chip from external elements such as humidity, oxygen, and other environmental factors that can damage the LED. Encapsulation materials for micro-LEDs should have high transparency, excellent thermal stability, and low voltage generated during the encapsulation process. Some commonly used encapsulation materials for Micro LEDs are:
Organic Materials: Organic materials such as polymers and epoxies are widely used as encapsulation materials due to their high transparency and excellent thermal stability. They can be easily processed by spin coating, spray coating, or inkjet printing.
Inorganic materials: Inorganic materials such as glass and ceramics are also used as packaging materials for Micro LEDs. They have high thermal stability and chemical resistance, but their manufacturing process is relatively complex and expensive.
Hybrid materials: Hybrid materials, such as organic-inorganic hybrid materials, combine the advantages of organic and inorganic materials. They have high transparency & excellent thermal stability and can be processed by spin coating, spray coating, or inkjet printing.
Metal alloys: Metal alloys such as aluminium and copper are also used as packaging materials for Micro LEDs. They have excellent thermal stability and mechanical strength but are complex to process and prone to oxidation.
In general, the choice of encapsulation material depends on several factors, such as the size of the Micro LED chip, the manufacturing process, and the intended application.
=========================================================================================================
How to Avoid Damage During Encapsulating?
Heat from the curing: The curing reaction will cause damage to delicate components that are sensitive to heat. Therefore, it is crucial to choose a compound that gives off a low amount of heat or that dissipates heat more efficiently during the curing process, like a thermally conductive potting compound.
Shrinkage of the encapsulating compound: The shrinkage during the curing process can damage sensitive components or solder bonds. It can be averted by choosing an encapsulating compound that hardly shrinks or is more flexible.
=========================================================================================================
Types of Encapsulations Process for Micro LED:
Bare Micro LED chips will not meet the requirements of use, and thus it becomes reasonable that they should be designed to provide effective heat dissipation channels, mechanical protection, electrical connection, and high efficiency & quality light output.
Chip-type SMD:
Chip-type SMD has a single LED pixel that is die-bonded on the BT board and then encapsulated using optical resin. The Chip-type is then attached to PCBs using SMD technology to obtain the LED display module.
N-in-one IMD:
IMD inherits the advantages of low technical difficulty, mature process, and cost of the single SMD device. N-in-one IMD has N-pixel units that are die-bonded on the BT board and then encapsulated using optical resin. It boasts higher integration, easing risks like water vapor erosion and poor mechanical protection. However, the integration of N-in-one IMD still needs to be improved.
COB:
COB uses naked chips of multiple pixel units die-bonded on the PCB and then encapsulated using optical resin. In this process, multiple chips are encapsulated, improving their resistance to water vapor and excellent mechanical protection performance. BT board is also omitted, and the naked LED chips can be attached to the PCB directly, providing a short heat conduction channel and better heat dissipation. COB is the optimum form for Micro LED displays with high pixel density.
=========================================================================================================
Conclusion:
The future prospects for packaging materials for micro-LEDs are highly promising. Encapsulation materials are key components in protecting the Micro-LED chip from external environmental factors such as humidity and oxygen while providing structural support for the device. Currently, the most common packaging materials for micro-LEDs are inorganic materials such as glass, ceramics, and metals. However, organic materials, such as polymers and hybrid organic-inorganic materials, are gaining increasing interest due to their flexibility, low cost, and ease of processing.
Additionally, R&D is ongoing to improve the performance and durability of Micro LED encapsulation materials. Some challenges include reducing the thickness of the packaging layers while maintaining the required barrier properties, improving the thermal performance of the packaging material, and reducing the occurrence of defects and cracks during the treatment. Overall, the development of high-performance and reliable encapsulation materials will continue to be a key area of research and innovation as demand for micro-LED technology increases for a variety of applications, including displays, lighting, and detection.
=========================================================================================================
Article by Ingenious e-Brain Solutions :-
Contact us :-
US Office:-
4 Heinrick Way Bridgewater,
New Jersey 08807, USA
Phone:-
+1 347 480 2054
+1 202 697 9162
India Office:-
207-208 Welldone TechPark, Sohna Road
Sector 48, Gurugram,Haryana 122018, India
Phone:-
+91 124 429 4218
Email:-
queries@iebrain.com