Exploring Technological Advancements and Regulatory Trends in the Geologic Hydrogen Sector
Introduction
Geologic hydrogen—also referred to as native, white, or natural hydrogen—is considered a significantly low-carbon and economical fuel. Although geologic hydrogen has not been commercially developed at scale to date, its potential as a clean and adaptable energy carrier has ignited widespread curiosity, and organizations from various industries are eager to explore the numerous opportunities it offers. IeB analysts anticipate that white/geologic hydrogen will witness phenomenal growth in the near future. Moreover, industry leaders and governments are keen to explore the potential opportunities around white hydrogen across diversified sectors.
Comparative assessment of diverse energy segments
● Wind farms require up to 360 times as much land area to produce the same amount of electricity as a nuclear energy facility, a Nuclear Energy Institute analysis has found. Solar photovoltaic (PV) facilities require up to 75 times the land area.
● A nuclear energy facility has a small area footprint, requiring about 1.3 square miles per 1,000 megawatts of installed capacity. This figure is based on the median land area of the 59 nuclear plant sites in the United States.
● By contrast, wind farm capacity factors range from 32 to 47 percent, depending on differences in wind resources in a given area and improvements in turbine technology. Solar PV capacity factors also vary based on location and technology, from 17 to 28 percent.
● A solar PV facility must have an installed capacity of 3,300 MW and 5,400 MW to match a 1,000-MW nuclear facility's output, requiring between 45 and 75 square miles.
● No wind or solar facility currently operating in the United States is large enough to match the output of a 1,000-MW nuclear reactor. The country's largest wind farm, Alta Wind Energy Center in California, has an installed capacity of 1,548 MW. The largest solar PV plants are the 550-MW Topaz Solar Farm and Desert Sunlight Solar Farm, both in California. Between six and 10 of these facilities would be needed to equal the annual output of the average nuclear reactor.
Recent activities and technology advancements in the geologic hydrogen market
● Big energy companies like Shell, BP, and Chevron are joining a consortium formed by the U.S. Geological Survey and Colorado School of Mines to explore geologic hydrogen, but a few ambitious startups are already on the hunt
● Gold Hydrogen has partnered with Schlumberger, the Commonwealth Scientific Organisation, Total Seismic, and Xcalibur to jointly develop innovative techniques for efficient hydrogen extraction, wellbore design, and subsurface data modeling, which are planned for Q4-2023 and 2024
● Engie (Russia) has deployed a network of small, remotely operated sensors that sniff the gas emitted from the ground around favorable geological locations like fault zones to detect traces of seeping hydrogen
● Engie (Russia) is considering working with Russian partners to produce "white" hydrogen, "turquoise" hydrogen, and "blue" hydrogen
● Ecopetrol (Columbia) long-term plan entails more than $2.5 billion in projects and $400 million a year in EBITDA, 60% of which would be evenly distributed between white and blue hydrogen
● HyTerra (Australia) announced plans to acquire 100% of Neutralysis Industries, giving it access to expertise, room to demonstrate, and a wellspring of naturally occurring hydrogen
● Koloma (USA) has raised US$91 million from Bill Gates's Breakthrough Energy Ventures, Energy Impact Partners, Evōk Innovations, Prelude Ventures, and Piva Capital
● Natural Hydrogen Energy LLC (USA) has drilled an 11,287-foot test well in Nebraska and is preparing to extract commercial supplies of hydrogen
● Helios Aragón (Spain) requests environmental permission to open a 3,850-meter-deep research well in 2024 and aspires to exploit the large reserves of white hydrogen that are found naturally in the subsoil of Huesca
● Confluence Resources (USA) has found a site in the Four Corners region that spans the junction of Colorado, Utah, New Mexico, and Arizona that might prove commercially viable
● Gold Hydrogen (Australia) holds 100% interest in the Ramsay Project, which is a Gold Hydrogen-owned exploration project in South Australia

Geographical explorations & regulations across the hydrogen industry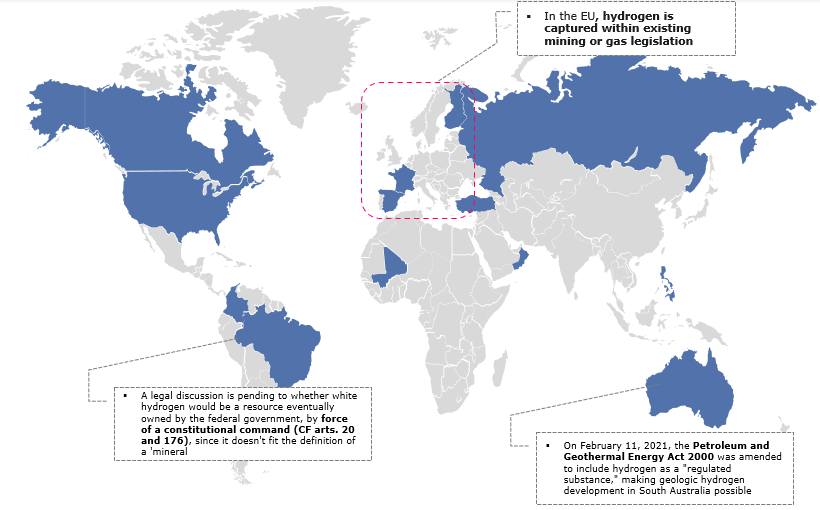 Current Challenges:
● Worldwide natural accumulations have already been discovered, and it is possible to dig for and extract hydrogen; but it's still unclear whether locating and extracting hydrogen from such accumulations can be replicated and scaled up and whether this resource is sustainable
● USA's infrastructure bill allocated $9.5 billion in funding for green hydrogen. At the same time, the 2022 Inflation Reduction Act subsidizes the use of clean hydrogen with a new tax credit as well as increasing the value of an existing tax credit for blue hydrogen. None of those tax credits or funding opportunities would benefit the search for or production of underground hydrogen
Future Opportunities:
● According to a U.S. Geological Survey model given in October 2022 at a meeting of the Geological Society of America, there may be enough natural hydrogen to satisfy the expanding world's need for thousands of years
● For the global hydrogen industry, the discovery of geologic hydrogen resources with the potential to be produced for $1/kg (or less) today might be game-changing; geologic hydrogen research could advance rather quickly, possibly within this decade
Conclusion:
IeB experts are well-versed in the opportunities and challenges associated with the geologic hydrogen production process. Our knowledge encompasses a broad range of decarbonization techniques, renewable energy technology, and innovative solutions that contribute to a greener and more resilient future. We are committed to offering meaningful insights and helping enterprises and individuals on their journey towards a low-carbon and sustainable society, with a strong emphasis on research, analysis, and staying up to current on the newest developments. Whether it's navigating policy changes, implementing clean energy solutions, or adopting carbon reduction measures, we stand ready to be your trusted partner in achieving a successful decarbonization strategy.
Do you want to know how geologic hydrogen could serve as a promising alternative to green hydrogen, which is likely to be adopted across various industry segments, and how IeB can help you identify new play areas in this space that may synergize with your existing technological know-how, products, and services, thereby positively impacting your revenue?
About Ingenious e-Brain: –
Ingenious e-Brain provides high-quality, customized, and cost-effective Technology Research, Business Research, and Intellectual Property Research solutions to industry leaders, and innovative companies across the globe. Innovation, knowledge, and transparency form the basis of our company's mission and vision. Along with cost benefits, we provide highest quality results ensuring fool-proof confidentiality and security. We are an ISO certified company with offices in India and USA.
Ingenious e-Brain has a strong team of analysts, and subject matter experts with domain proficiency which is devoted to help clients grow. Our highly qualified professionals offer tailored, value-added and cost-effective services to our clients. We believe in building long term relationships with our clients who include national and international corporations, Fortune 500 companies, world's leading research institutes and universities as well as independent inventors.
Get in Touch:-
USA Office:
646 Sutton Way#1006
Grass Valley, CA 95945 United States
+1-347-480-2054
India Office
207-208 Welldone TechPark, Sohna Road
Sector 48, Gurugram, Haryana 122018, India
+91 124 429 4218