Encapsulation Materials For Micro-LED
Business Context
Micro-LED without encapsulation materials cannot meet the requirements to use; thus, a specific encapsulation is needed to provide mechanical protection, effective heat dissipation, electric connections, and high efficiency and quality light output. The encapsulation forms used on micro-LEDs are:
Chip-type SMD encapsulation
N-in-one IMD encapsulation
COB encapsulation
The Challenge
The demand for high-power micro-LED is growing exponentially, so it becomes more relevant to increase the demand for encapsulation materials. The micro-LEDs are used in devices to enhance their efficiency and provide high brightness, which comes with the challenges like heat dissipation, outside protection, and transparent surface. High-power micro-LEDs have an advantage in the automotive application and general lighting owing to efficient working for extended operating hours and low maintenance costs.

For micro-LEDs, organic encapsulant materials used are acrylic resin, epoxy resin, and phenolic resin; and some of the inorganic encapsulant materials used are silicon nitride layer, silicon oxynitride layer, and silicon oxide layer. Moreover, the encapsulants provide thermal transfer and light emission, which align with the addressable need of mid-and high-power micro-LEDs. Thus, the micro-LED encapsulation market is expected to grow substantially during the forecast period.
Our Solution
Our research team proposed a five-step approach and employed a comprehensive strategy covering secondary research, patent, and scientific research to conduct the study, followed by primary research, to help the client understand technologies and competition and uncover promising opportunity areas.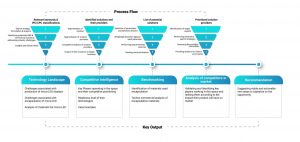 Business Impact
We provided the client with actionable recommendations on a few types of materials used for the encapsulation of micro-LEDs and their effects:
The client was able to understand the increase in demand and popularity of materials.
The client gained clear insights into overall trends in the utilization of encapsulation materials for the use of different situations.
The client was able to prioritize a few of the materials for their business. Epoxy resin, epoxy molding compounds, silica gel, organic silica gel, Silicone and silicone-based, polyurethane-based, acylate-based, phenyl-based, Internal filling of metal and ceramic materials, and other classes of materials.
The client gained perspective on various solutions & approaches competitors are adopting to address the challenges associated with encapsulation materials of micro-LED.
The client understood competitors' strategies for minimizing costs and achieving their goals.
The client got insights on implemented success stories/use cases for a few solutions to establish confidence for collaboration opportunities with solution providers.