The Growing Use of Robotics in the Food Industry
Over the last two decades, advances in different technological fields have turned 'fictional' robots into reality. The field of robotics falls under the umbrella of industrial automation. Due to the pressing need for increased efficiency, robots have been deployed to simplify activities. Robots are also becoming an essential component in many sectors. Previously, the use of robotics in the food industry was limited to food processing and palletizing in dairy, drinks, chocolates, and food tins. With the advancement compared to traditional methods, food manufacturing and processing plants are using cost-effective automation solutions to increase production volume. Since relying on manual labor is now considered a classic principle, robotized handling/manufacturing installations are becoming more common. Picking, putting, packing, and palletizing are all examples of popular applications.
Food industries are shifting towards automation to reduce food processing costs while increasing food quality and security. In this background, industries are implementing a systemic use of automation and robotic systems and fully automated digitized process management to improve food manufacturing productivity while also lowering production costs dramatically.
Ways Robotics is Changing the Food Industry:
The food industry has been reluctant to embrace robotics for a variety of reasons. Experts believe, however, that food industry robots are evolving, and companies that do not adopt modern technologies risk falling behind. Food demand continues to rise as the world's population grows to over 7.5 billion people. Consumers are searching for more than just better-quality, organic food at their fingertips. Robotics and automation are critical components of the approach. In comparison to other sectors, the food processing industry has been reluctant to adopt robotics.
However, on the other hand, Robotics has made inroads into nearly every aspect of the food industry in recent years, from the farm to the kitchen. The following are some aspects in which the industry is evolving:
Agriculture: Farming is the start of the food chain. The agricultural precision industry is estimated to cost $7.87 billion by 2022. Robotics plays a significant role in this. By the same year, the value of agricultural drones is expected to be 3.9 billion dollars. Seedlings, recognition, and sorting are some of the robotic uses.
Food Processing: Autonomous food processing can hold the key to meeting growing food demand. The global food automation market is predicted to double in size within the next five years, reaching 2.5 billion dollars in 2022. Because of the popularity of ready-to-eat foods, the Asia-Pacific market is a major driver in this region. In food production, secondary processing includes combining the ingredients to form new food products. Since the food is more standardized by then, robotics applications are best suited to secondary production. However, we see an increase in the number of main processing robots.
Food Packaging: Robots for food packaging have been used in the food supply chain for a long time. However, the most recent change is that the whole packaging process can now be automated. Robotic packaging is expected to be one of the essential applications in the food industry.
Food Safety: Even though labor costs drive interest in robot technologies, more businesses focus on food safety. In 2019, the use of robot materials in the food industry had increased by 29%, owing to safe and non-contaminating processing areas. According to the CDC, the foodborne disease affects 48 million Americans (1 in 6) per year, resulting in 128,000 hospitalizations and 3,000 deaths. By reducing human interaction with foodstuffs, robots minimize the chance of contamination and foodborne diseases.
Classification of Robots in the Food Industry:
In the food industry, robots are mostly used for pick-and-place tasks such as food sorting, packaging, palletizing, and food serving.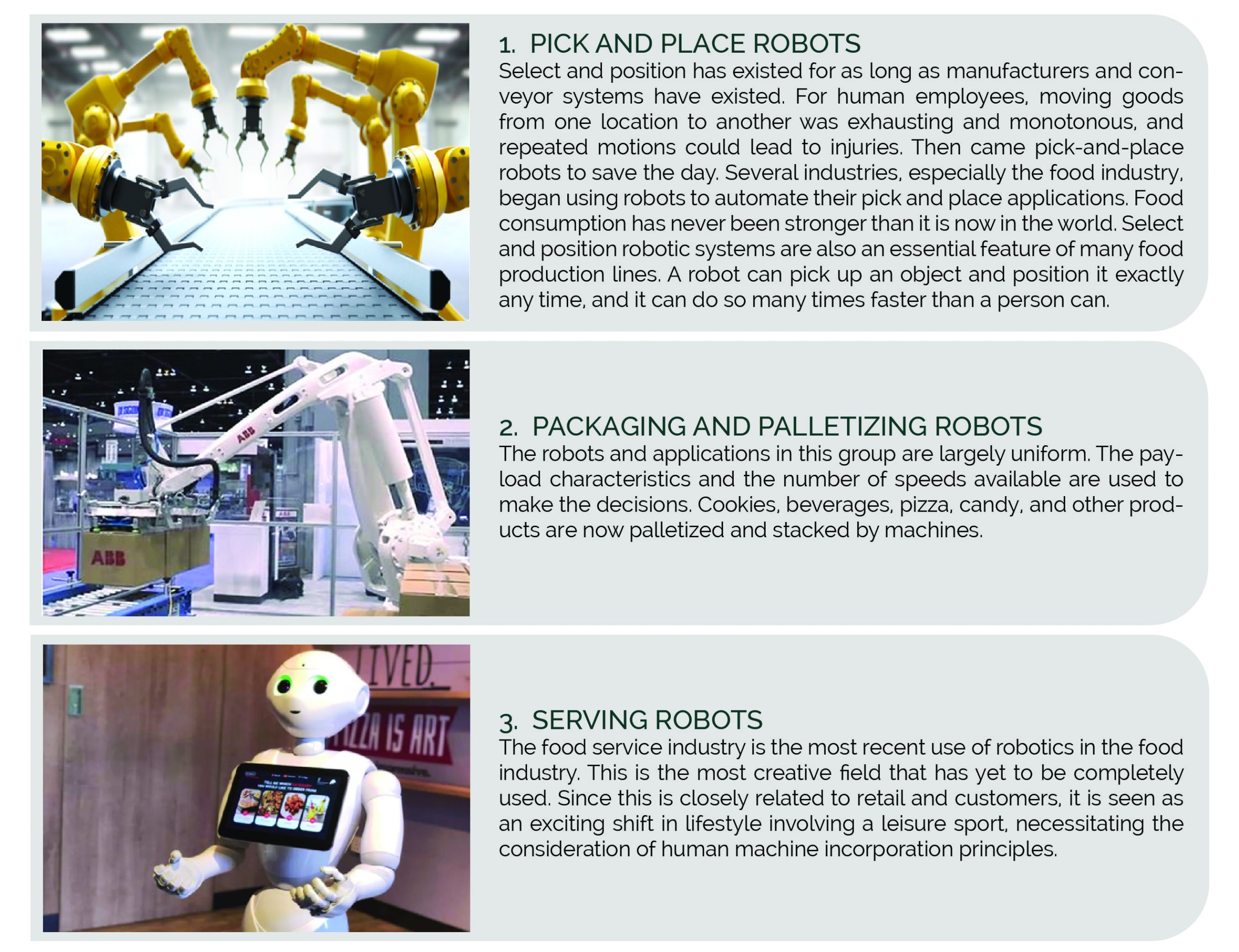 Food Robotics Market Size
The global Food Robotics industry was worth USD 402.2 million in 2019, and it is projected to rise to USD 745 million by the end of 2026, with a CAGR of 9.1% from 2021 to 2026. The industry is expected to expand due to a growing focus on improving operating quality in manufacturing and rising demand for packaged foods.
Food robotics market size is expected to rise in response to the packaged food demand. There has been an increasing need to package food items to extend their shelf life and cater to the market for ready-to-cook and ready-to-eat products. The food robotics market has been driven by the mass production of packaged food goods, especially in the United States, Japan, France, and Italy. Many large-scale food processing plants are automating processes to ensure the efficiency and accuracy of stock-keeping units (SKUs).
Low and medium payload capacity segments are expected to expand faster than the high and medium payload capacity segments. The low and medium payload capability systems are addressed by packing, repackaging, selecting, and placing applications. The trend of using these automated systems is expected to accelerate the development of the food robotics industry.
In terms of sales volume, Europe had the highest market share for food robotics in 2018, while Japan had the second-largest market share for food robotics. The growing involvement of food factories and increasing labor costs and overheads are credited with Europe's domination. On the other hand, the Asia Pacific is predicted to rise the most throughout the forecast era. This is attributed to increased disposable income among the working population and increased demand for frozen and processed foods. Palletizing has the highest market share of all food robotics applications, accounting for 60 percent of the total market share.
Challenges of Robotics in the Food Industry
Despite the efficiency of IR applications in food processing, their adoption is sluggish compared to other manufacturing sectors. The fundamental challenges preventing their acceptance in food manufacturing are divided into four categories, as seen below-
Organoleptic Properties and Food Characteristics: The essence of the foodstuff itself is the biggest barrier to IR adoption in the food industry. Foods are naturally brittle, amorphous, and irregularly formed structures that can be slick or sticky. Foodstuffs' organoleptic properties, such as taste, scent, color, and texture, can be strongly influenced by improper handling and manufacturing. Foods must be treated with caution because minor stresses can cause deformities and swelling, lowering the consistency of the materials. Special handling of Robots is crucial for non-rigid and semi-rigid foods, which are more likely to suffer from textural and structural damage.
Requirement of Hygiene: In food processing plants, the highest levels of sanitation must be ensured. Unsanitary equipment or facilities may compromise food safety. Both foods must be treated and stored on equipment that is made of non-toxic, non-corrosive, and readily washable materials, such as stainless steel. Furthermore, they must also be free of any crevices to prevent the accumulation of food waste, which may lead to microbial contamination. Many believe that industrial robots are unsanitary; however, a solution is that robots are coated with both permanent and detachable protective layers to ensure quick cleaning and corrosion resistance.
Cultural – Financial Barriers: Robots were initially thought to be costly, rigid pieces of machinery that required complicated setup and highly qualified operating procedures. These assumptions stifle the adoption of Robots in the food processing industry, especially among SMEs. Another issue that robotics face is social norms and individual concerns that they will be considered irrelevant because of the adoption of Robots. On the other hand, Robotics cannot replace humans; rather, they are a means of improving working conditions and ensuring that enough food is provided to meet the world's ever-increasing population and demands.
Lack of Skilled Operators: The food industry's "poor access to skilled engineering and IT expertise" hampers Robotics acceptance and has been identified as one of the main barriers to advanced automation adoption.
Recent Advancements of Robotics in the Food Industry:
Just Born Quality Confections, the company behind the sweet, soft, and oddly shaped Peeps, was only recently able to automate the delicate and sticky goods with the help of a Soft Robotics pneumatic gripper. Previously, only human hands could hold the candies. Automation now allows the business to increase productivity and adjust manufacturing lines more quickly to broaden seasonal goods.
Omron's HD-1500 autonomous intelligent mobile robot uses lasers to provide 360-degree protection with payloads up to 1,500 kilograms. It also has an onboard sensor for more accurate material pickup and drop-off.
Epson Robots unveiled the C12XL 6-Axis robot, a 12-kilogram payload, and a 1,400-millimeter reach. It can be used as a stand-alone robot or as part of a line in end-of-line applications, including wrapping, kitting, material handling, or palletizing.
Omron launched the latest FH-3D vision sensor, which allows the 3M interactive robot to pick up objects from a bin in random, overlapping locations. Because of the differing weights, sizes, and orientations of objects that require 3D position and various forces for the robot to pick up the objects, this has traditionally been a difficult task to automate.
Conclusion
Trust plays an important role in developing innovations in the food industry, according to a thorough examination of the market. The rise of robotics in the industry has been widely observed worldwide, but confidence between humans and robots seems to be lacking.
When looking at the various implementations of robotics in the food industry, it is apparent that what companies give up in speed can be achieved in agility. The robotics application horizon has expanded to a great extent. Robots can change processes ranging from packing and handling to palletizing, food sorting, and food operation.
When predicting where careers will go in the future, it is apparent that hardcore skills, such as cooking methods, will become less important as robots will take over. Laborers and staff would need to be skilled in trades that are much more valuable than performing monotonous tasks that are potentially detrimental to the body in the long run.
The industry stands to gain a lot from the transition to food-producing robots. Robotics can help to tackle the problem of a labor shortage in the food chain. Not only can labor shortages be resolved, but the following challenges in this ever-changing industry will be minimized as well:
Absences due to vacation and sick leave
Duty Hours (24 hours a day, 7 days a week)
Cultural disparities & Labor challenges
Added layer of protection, less human interaction, especially during pandemics.
Consistent cleaning procedures
Today's robots are significantly less expensive than their predecessors. They are a lot easier to set up and use. Today's robot construction and materials are more user-friendly. They have better ways to clean the robot, which is particularly important in the food industry with its stringent HACCP regulations.