Cargo Handling Equipment Market: Global Market Analysis and Future Growth Trends
The global cargo handling equipment market is projected to grow at a CAGR of xx%, during the forecast period, to reach USD xx billion by 2025 from USD xx billion in 2017. The base year considered for the study is 2017 and the forecast period is 2018–
Cargo handling equipment are used to transport goods and material from one location to another. Cargo handling Equipment Vehicle varies according to cargo type. Cargo handling equipment are employed widely in marines and railways for the transportation of heavy goods, containers, and components. Cargo handling Equipment Vehicle generally comprises cranes, container handlers, yard tractors, and forklifts.
The global cargo handling Equipment market can be segmented based on propulsion, equipment type, application, and region. Based on propulsion, the cargo handling Equipment Vehicle market can be classified into diesel, electric, and hybrid. In terms of propulsion, the diesel segment accounts for a prominent share of the market. Based on equipment type the market can be segmented into Conveyer, forklift Truck, Aviation Dolly, AGV, Crane and various others.
This report also highlights the regional outlook and segments the market into four main regions, Americas, Europe, Asia-Pacific and RoW. Each of the region is further divided into various countries. Asia-Pacific is the largest market for cargo handling equipment market. China is the global leader in cargo handling capacity and accounted for nearly 30% of the total cargo handled in 2017. The high cargo handling capacities of ports in China is driving the growth of the market in Asia Pacific. This trend is likely to continue in the coming years, leading to an increase in the demand for cargo handling equipment as well as automation at ports is expected in the region in coming years.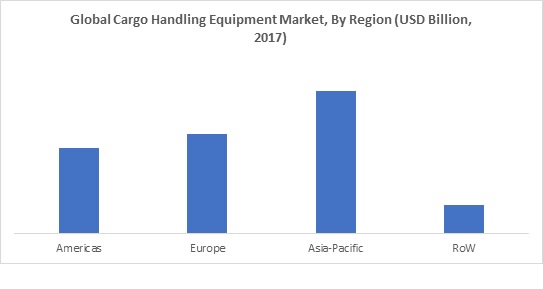 The research methodology involved various secondary sources such as the Port Equipment Manufacturers' Association (PEMA), International Air Transport Association (IATA),Warehousing Education and research council (WERC), World Cargo Alliance (WCA), Container Handling Equipment Manufacturers' Association (CHEM), Container Owners Association (COA), Container Dealers Association (CDA), Container Traders and Innovators Association, World Shipping Council, corporate filings (such as annual reports, investor presentations, and financial statements), business and industry magazines, and paid databases.
The report also incorporates available opportunities in micro markets for stakeholders to invest along with the detailed analysis of competitive landscape and product offerings of key players such as: Kalmar, Konecranes, Liebherr, Hyster, Kion Group, Toyota Industries, Mitsubishi, Macgregor, Jbt Corporation, Terex, Sany, Anhui Heli, Abb Group Pioneer Corporation, Liebherr Group, Hyundai Heavy Industries, Seehafen Wismar Gmbh, Terex Corporation, Johnson Taylor Forklifts.