Insect Protein Market – Global Industry Analysis, Size, Share, Growth, Trends, and Forecast, 2022 – 2029
Market Snapshot:
According to Ingenious E-Brain market study for the Global Insect Protein Market is predicted to grow at a Compound Annual Growth Rate (CAGR) of 26.42 percent over the projection period of 2022 to 2029. Increased demand for protein-rich products, sustainable raw materials, and their contribution to the circular economy are projected to propel the worldwide insect protein market forward.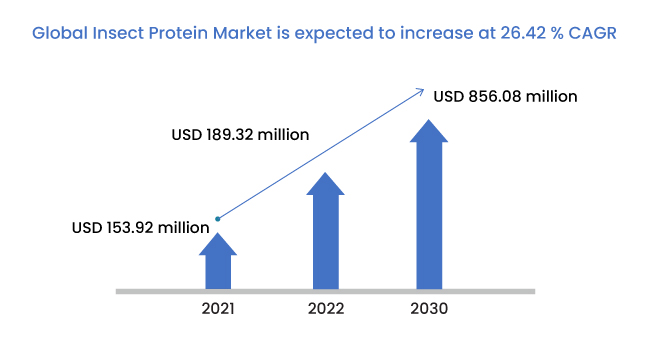 Market Overview:
The largest protein source is insects, which are transformed into protein powder. Both humans and animals consume this waste. It is undeniably a good alternative protein source, with a rapid growth of the market over the years, primarily in the feed industry.
Because it has a higher protein content and can be manufactured at a cheap cost, insect protein is an excellent alternative for a range of animal and plant-based proteins. Feed producers are increasingly resorting to insect protein production to fulfil the increasing demands for aquaculture and poultry feed, owing to the continual rise in the price of soymeal and fishmeal.
The demand for food supplies develops in tandem with the world's population. Insect protein offers a lot of potential for alleviating global food scarcity. Insect protein is utilised in animal feed, food and beverage, cosmetics, and personal care products, among other things. In addition, as the global food crisis worsens, insects are being examined in Western countries as a potential source of human food and animal feed.
The report on the Global Insect Protein Market provides a comprehensive analysis of the industry. The research includes a detailed analysis of major segments, trends, drivers, constraints, the competitive landscape, revenue possibilities, modifications in market rules, product approvals, strategic choices, product releases, geographical developments, technical developments and other important market variables.
Impact:
With a growing global focus on reaching net-zero emissions, the move to environmentally friendly, sustainable products opens enormous sales and financing prospects. In places like North America and Europe, the transition is especially noticeable in the food and beverage business. As a result, insect protein-based foods are a wonderful alternative to plant- and animal-based foods.
Market Dynamics: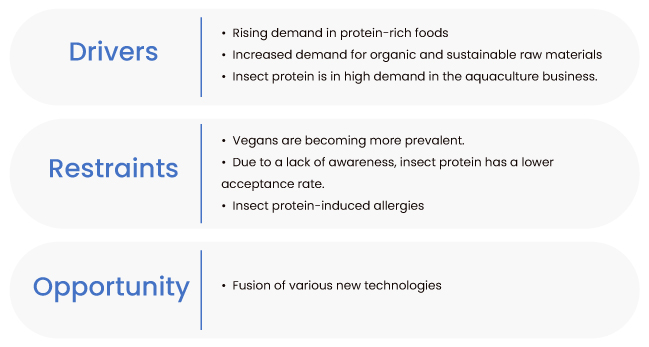 Competitive Landscape:
Insect protein product manufacturers who produce raw or processed goods are key players in the global insect protein market examined and covered in the report.
In addition, a full competitive benchmarking of the firms operating in the worldwide insect protein market has been conducted to assist the reader in understanding how the businesses compare to one another and to give a clear market landscape.
Comprehensive competitive tactics such as partnerships, agreements, and collaborations will also help the reader comprehend the market's undiscovered revenue pockets.
During the study, the key players identified are: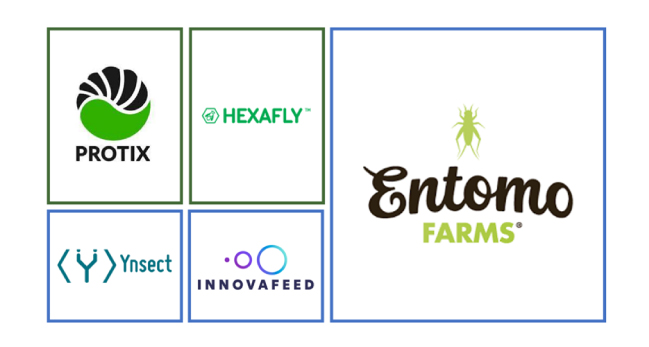 Developments:
Some of the key developments in the market are:
November 2020 – InnovaFeed increased its global reach by building an insect protein manufacturing facility in Northern France. Following this expansion, the corporation sought to accelerate both its domestic and worldwide expansion strategies.
November 2021 – Agronutris, a French insect protein manufacturer, has announced intentions to invest $116 million in the development of two new plants in north-eastern France, with a large amount of their output going to the European pet food sector.
December 2021 – Neo Bites, a sustainable pet food company designed to promote canine health and the pet food industry's relationship to the environment, has released the first line of functional insect protein dog food toppings.
January 2022 – Ynsect, a French insect protein startup, is hoping to grow into the Japanese and Korean markets after receiving a national trade contest and striking a high-profile research relationship.
February 2022 – The ADM and Innovafeed have launched a partnership. Innovafeed will provide its black soldier fly protein to ADM's pet food division as part of this agreement, which will result in "high-quality, nutritional" products with a "far less carbon footprint and land demand" than conventional animal protein.
Market Segmentation:
The Global Protein Insect Market is segmented by application, source, product, distribution channels and geography.

The product section explains the many forms of insect protein products available, including crickets, black army fly, mealworms, ants, grasshoppers, and other industries, as well as their worldwide potential.
Furthermore, the study gives the reader a thorough grasp of the many insect protein-based products available by application, as well as distribution channel.
Insect protein-based products, such as aquaculture feeds, poultry feed, and pet food, are widely utilized in the animal feed business. As a result, the insect protein market has a large revenue proportion for the sector.
Global Protein Insect Market, By Geography:
Europe is predicted to have the greatest market share for insect proteins.
The growing relevance of fiber-fortified goods in Germany and the United Kingdom, as well as widespread use of the protein in food applications among middle-aged and elderly customers, are likely to boost market growth in the area.
Due to increased local demand for the protein, Asia Pacific is expected to rise quickly.
Because of the abundance of raw materials, China is anticipated to dominate growth in Asia Pacific.
Furthermore, South Korea's, India's, China's, Indonesia's, and Malaysia's increasing food and beverage and pharmaceutical sectors are predicted to boost Asia Pacific's growth.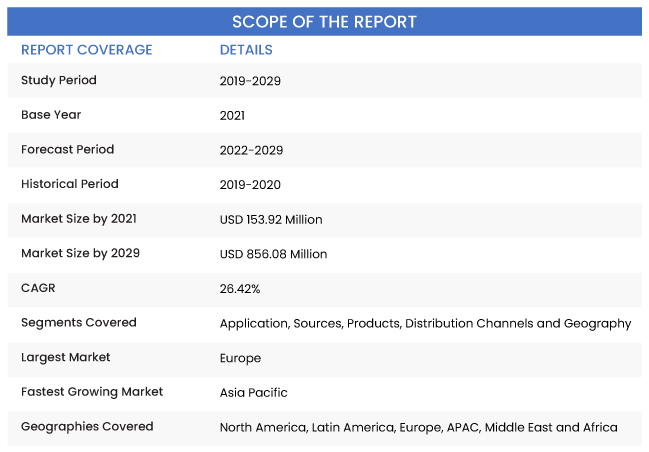 Critical Questions the Report Answers:
What is the market size and forecast for the Global Protein Insect Market, to identify potential investment opportunities?
What are the major drivers, restraints, and opportunities, as well as an evaluation of their influence on the Global Protein Insect Market?
What are the key application trends of Global Protein Insect Market in the last few years and across various geographies?
Who are the major vendors in the Global Protein Insect Market?
Which region has the largest share in the Global Protein Insect Market?