3D Printing Software and Service Market- Global Industry Analysis, Size, Share, Growth, Trends, and Forecast, 2022-2030
Market Overview:
According to Ingenious E-Brain market study for the 3D Printing Software and Services Market is predicted to grow at a Compound Annual Growth Rate (CAGR) of 25 percent over the projection period of 2022 to 2030.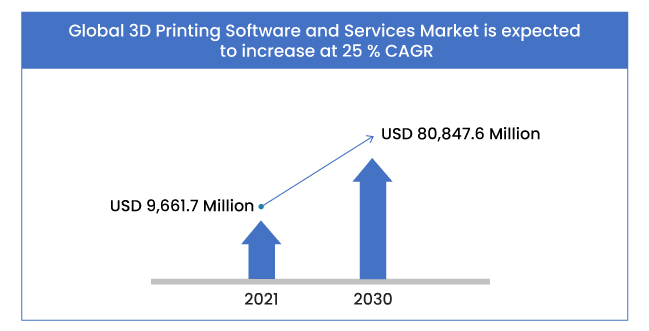 3D Printing Software & Services Market Overview:
Since the early 1980s, 3D printing technology has advanced tremendously, and much of this may be ascribed to technological developments in this sector. 3D printing software engineers, service providers, material producers, end-users, and others make up the environment of the 3D printing software and services industry. North America is still leading the market, followed by Europe and other areas.
The market is predicted to increase due to intensive research and development in three-dimensional printing, as well as rising demand for prototype applications from several industrial verticals, including healthcare, automotive, aerospace and military.
The report on the 3D Printing Software and Services Market provides a comprehensive analysis of the industry. The research includes a detailed analysis of major segments, trends, drivers, constraints, the competitive landscape, revenue possibilities, modifications in market rules, product approvals, strategic choices, product releases, geographical developments, technical developments and other important market variables.
Market Dynamics:
Drivers:
Cost-effectiveness, increased design flexibility, and less waste
Growing Technological Advances in the 3D Printing Industry, as well as the Integration of Machine Learning (ML) and Artificial Intelligence (AI)
The Healthcare Industry is Seeing Rapid Growth in 3D Printing Technology.
Government Initiatives and Growing R&D Investments
Increasing End-Use Industry Demand
Challenges:
Inadequate Technical Knowledge
Limited availability and expensive material costs
Intellectual-Property-Related Complications.
Opportunity:
Growing 3D Printing Demand in Developing Markets
Software and Services for 3D Printing Advancements
Metal 3D printing is becoming more popular.
Demand from New Application Verticals is Growing
Competitive Landscape:
The companies highlighted in the report were chosen from a select pool of players, which included tier-1 players, mid-segment players, and young innovative companies, based on factors such as product portfolios, annual revenues, market penetrations, R&D initiatives, and domestic and global presence in the 3D printing software and services market.
During the study, the key players identified are: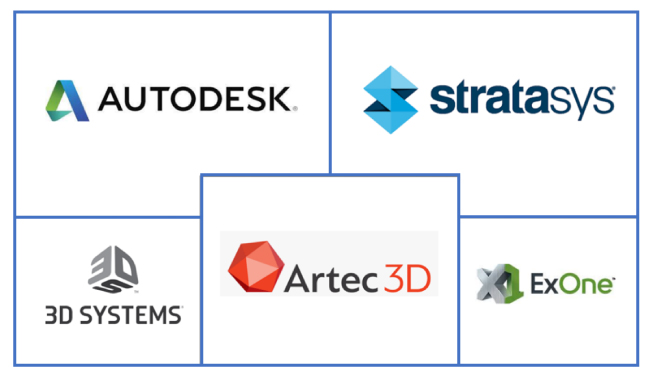 Key Developments:
Some of the key developments in the market are:
March 2021 – Autodesk Inc. has released Autodesk Takeoff, a new solution that allows estimators to complete 2D and 3D quantification operations from a single data platform.
March 2021 – Desktop Metal has announced the development of a breakthrough powder that allows for aluminum sintering in binder jetting AM technology. Uniformity Labs collaborated in the development of the new powder.
March 2022 – To address the country's housing deficit, South Africa's Department of Science and Innovation (DSI) initiated a pilot project to create around 25 dwellings using 3D printing technology.
Market Segmentation:
The 3D Printing Software and Services Market is segmented by component, printer type, technology, material, application, end-use industry and geography.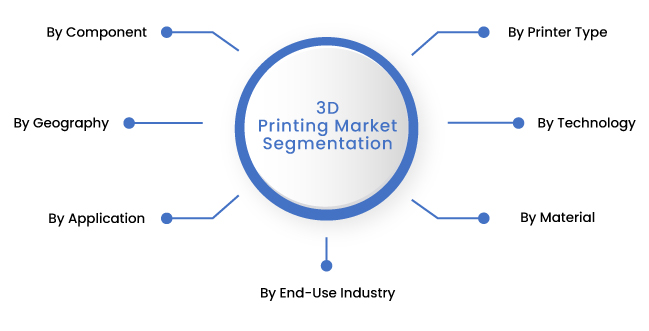 dominating the market:
The market for 3D printers is dominated by the printers sector. Industrial and desktop printers are the most common types. Due of the numerous advantages of 3D printers over traditional production techniques, 3D printing has exploded in popularity over the last decade. Design flexibility, quick prototyping, print-on-demand, little wastage, fast designing and manufacturing, ease of access, and time and cost efficiency are only a few of the benefits of the production process. During the forecast period, the market for industrial 3D printers is predicted to rise at a faster rate. Personal, professional, and production printing are all possible with these printers. These printers may be programmed to print any component or module indefinitely, reducing material costs and assuring little or no waste.
The automotive sector is predicted to increase at the quickest rate:
3D printing is a supplement to existing manufacturing technologies that is rapidly increasing its impact in a variety of applications throughout the world. Simple and sophisticated things in tiny and big sizes may now be printed using 3D printing technology. The 3D printing market's fastest-growing vertical is the automobile industry. The car sector has also made the transition from prototype to manufacturing final components and products using 3D printing. The market is growing because of the desire for newer, better-performing cars, as well as the need to improve manufacturing and simplify supply chains and logistics.
3D Printing Software and Services Market, By Geography: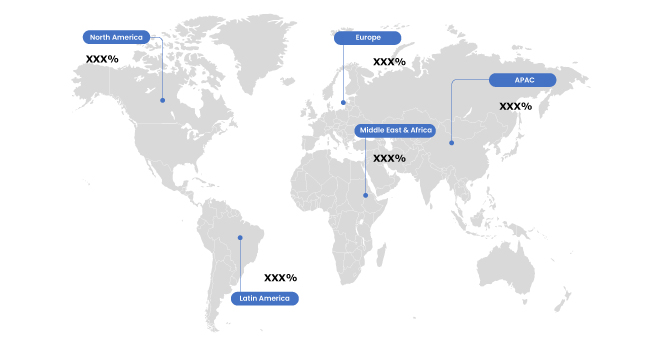 Some of the drivers driving the growth of the North American market include increased investment in 3D printing start-ups, government backing, and technological innovation.
The presence of additive manufacturing businesses, service bureaus, and engineering firms in North America has helped it to dominate the industry.
In terms of 3D printing advancement, North America is in the forefront.
Several firms participate in R&D operations in various verticals. North America is also seeing a growth in investments, which is presenting the industry with an opportunity.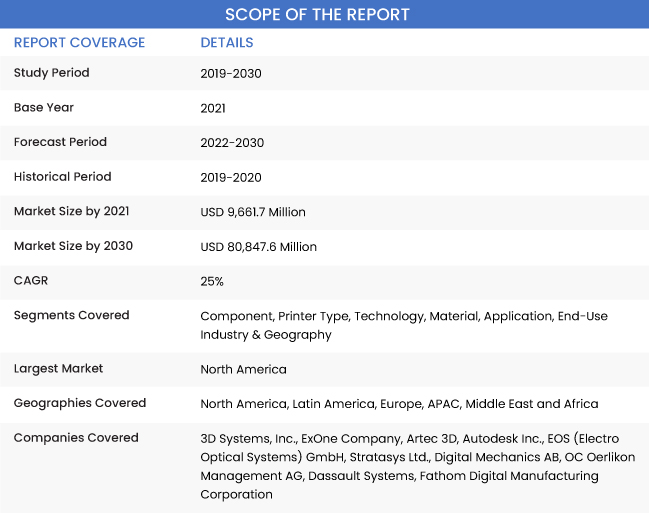 Answers:
What is the market size and forecast for the 3D Printing Software and Services Market, to identify potential investment opportunities?
What are the major drivers, restraints, and opportunities, as well as an evaluation of their influence on the 3D Printing Software and Services Market?
What are the key application trends of 3D Printing Software and Services Market in the last few years and across various geographies?
What is the market's most popular software, service, printed material, technology, application, and end-user, and how will they perform in the following years?
Which region has the largest share in the 3D Printing Software and Services Market?