Automakers And Technology Company Partnerships in 2023
The four main drivers of technology disruption – autonomous driving, electrification, connectivity solutions, and shared mobility – are not only influencing new transportation models and growth opportunities but are also spawning several sophisticated features that will soon become the mainstay of auto products. Increased R&D sophistication, a complexity shift from hardware to software, and shorter product life cycles are all affecting auto incumbents. They must now cohabit and compete in an ecosystem with a high startup density.
As, the auto industry is reshaped by technological disruption, analysts have discovered that automotive executives are increasingly turning to inorganic strategies, such as strategic partnerships (rather than full acquisitions) with tech companies, to gain faster access to capabilities, technologies, and products.
As a part of the research, we decided to gather information on recent partnerships between Key Automotive Players and Technology Solution Providers. The gathered data was utilized to provide predictions on the kind of partnerships that can be expected in 2023 and years after that.
The strategic activity information is showcased in a tabular format which provides us with the impact of the partnership in coming years. The impact has been calculated by various factors including the type of players involved, type of solution provided, technology type, and their prospects. According to above mention parameter, each activity impact is obtained.
Some of the partnerships of the future have also been discussed in the report.
Some of the strategic activities have been summarized below: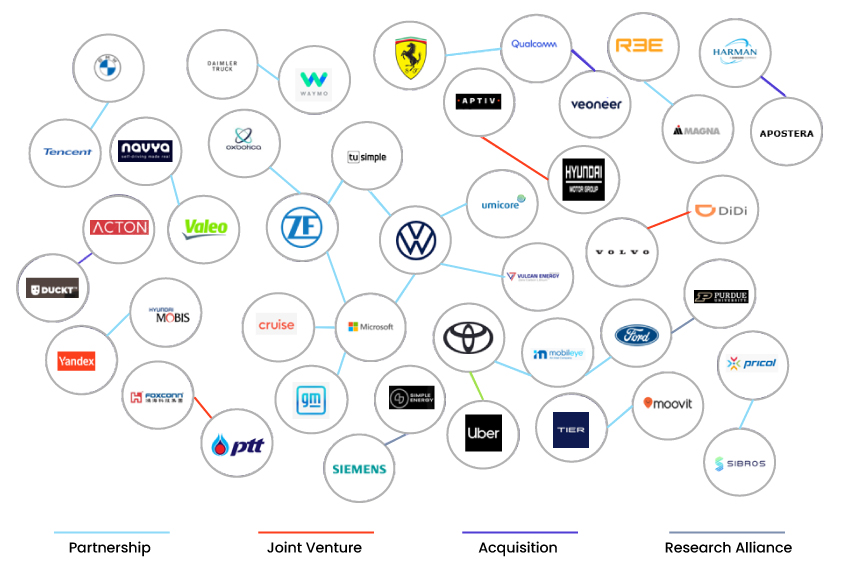 We observed that the demand for commercialization of autonomous vehicles on a large scale will act as a catalyst behind accelerating such partnerships between players to cater to the demand and stay ahead of other players in the game.
Several companies are expanding their production capacities and taking vehicle automation to the next level due to rapid improvements in sensor-processing technologies, high-definition mapping, adaptive algorithms, and the deployment of infrastructure-to-vehicle and vehicle-to-vehicle communication technologies. Increased use of automated vehicles is expected to save vehicle running costs, improve travel convenience and comfort, and encourage longer commutes. Furthermore, major players are investing in the development of highly and fully automated vehicles, which are expected to arrive by the end of this decade.
Interesting facts about the report: