Electric Vehicle Fast-Charging System Market Report
Market Snapshot:
According to Ingenious E-Brain market study for Electric Vehicle Fast-Charging System Market is expected to grow at a CAGR of 24.6% to from 2021 to 2030.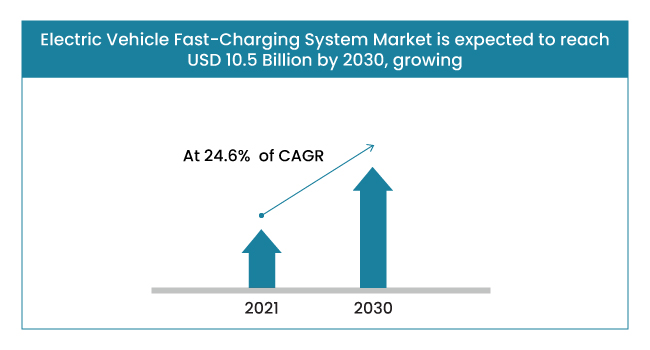 Electric Vehicle Fast-Charging System:
Level-3 chargers make use of electric vehicle (EV) fast-charging technologies. Fast-charging systems for electric vehicles can range in power from 23 kW to over 200 kW. This type of charging device is most commonly found in public areas and charges the vehicle faster than standard chargers. To save charging time, the fast-charging system can simultaneously charge many electric vehicles. Long-distance driving for electric vehicles becomes considerably more pleasant thanks to such technologies, which allow for faster charging periods and more optimized station use. The operation of an EV fast-charging system requires reliable grid connectivity.
Market Overview:
Around 10 million electric vehicles are on the road globally, according to the "International Energy Agency." Various governments are providing financing and investments to encourage the development of EV charging infrastructure in their respective nations. China, the United States, and the United Kingdom are all spending heavily on the construction of charging infrastructure. An increase in global demand for electric vehicles is also propelling the EV fast-charging system industry forward.
The need for electric vehicle charging stations will be boosted by factors such as expanding EV sales throughout the world and the rising desire for zero-emission transportation. Portable charging stations, bi-directional charging, smart charging with load management, usage-based analytics, and automated payment, as well as the development of ultra-fast charging technology, will open new business potential. The anticipated standardization of charging ports and government regulations by the world's leading economies has accelerated the installation of electric vehicle charging stations.
The report on the Electric Vehicle Fast-Charging System Market provides a comprehensive analysis of the industry. The research includes a detailed analysis of major segments, trends, drivers, constraints, the competitive landscape, revenue possibilities, modifications in market rules, product approvals, strategic choices, product releases, geographical developments, technical developments and other important market variables.
Government measures increasing the uptake of electric vehicles.
Various governments are taking steps to encourage the use of electric vehicles in order to satisfy fuel consumption targets and minimise greenhouse gas emissions. For example, in August 2018, the Japanese government drafted an electric car strategy for greater collaboration and a seamless transition in the automobile sector. In addition, it has launched the Faster Adoption and Manufacturing of Hybrid and Electric Vehicles II project (FAME). Incentives will be offered to encourage the local manufacture of electric vehicles. As a result, such government initiatives are projected to propel the electric car and charging system market forward.
Market Dynamics: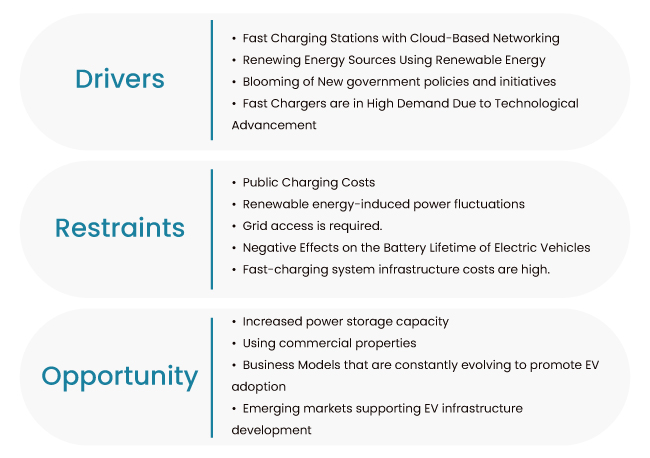 Competitive Strategic Vision:
The Competitive Strategic Vision examines the competitive landscape in terms of businesses, technologies, and regions to assist the supplier in determining a match or alignment between their strengths and future growth potential. It describes the best or most advantageous fit for vendors to implement consecutive merger and acquisition plans, regional expansion strategies, research and innovation strategies, and new product introduction approaches to execute future business advancement over a foreseeable time.
During the study, the market's leading participants identified are: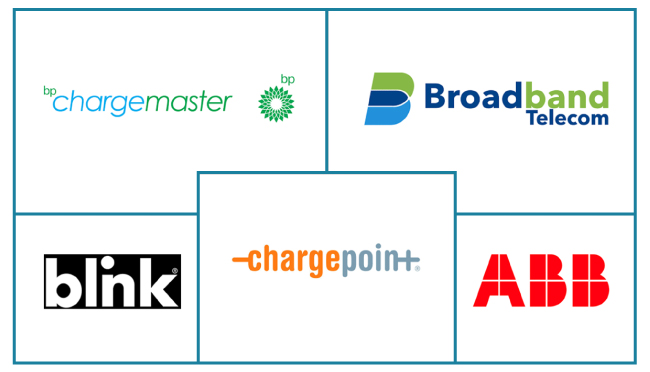 Key Developments:
September 2021 – WEX, a renowned financial services company, and ChargePoint have announced the extension of their current partnership to enable seamless EV charging integration for mixed fleets.
September 2021- Bridgestone EMIA and TSG have partnered with EVBox to improve EV charge stations in Europe.
December 2021 – South Korea's transport ministry said that by the end of 2022, over 1,000 electric car chargers would be installed at highway service facilities around the country. South Korea planned to build 22,000 electric vehicle chargers in the city by February 2022, with the support of the Seoul metropolitan government, while the environment ministry and other agencies planned to install roughly 12,000 EV fast chargers.
Market Segmentation
The Electric Vehicle Fast-Charging System Market is segmented into application, mode of charging, vehicle type, connector type and charging power.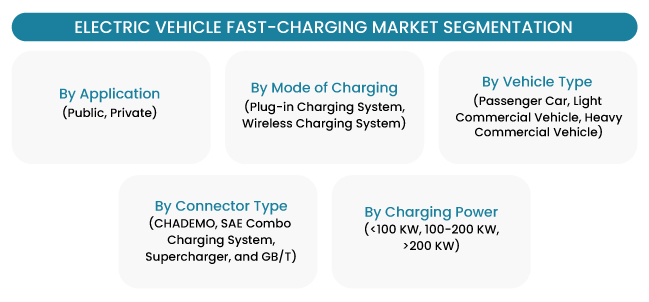 Electric Vehicle Fast-Charging System Market, By Geography: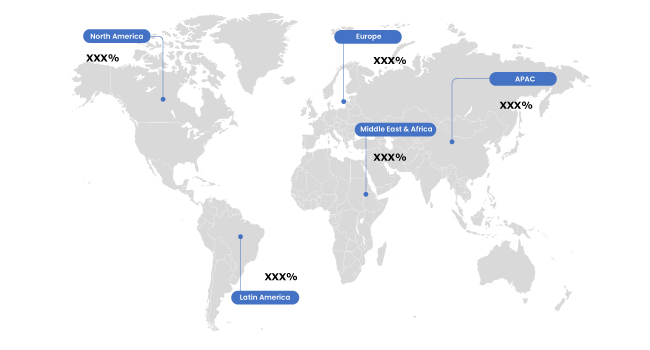 Countries in the Asia Pacific area include China, India, Japan, and South Korea. China and India, two of the world's fastest-growing economies, are located in the area.
The governments of these rising nations have identified the global electric vehicle charging station market's growing potential and have taken a number of steps to entice major OEMs to construct electric car charging infrastructure in their home markets.
Charging network providers for EV charging stations, for example, have teamed with several OEMs to give free EV charging to EV drivers. As a result, electric car production has increased in recent years to meet domestic and international demand.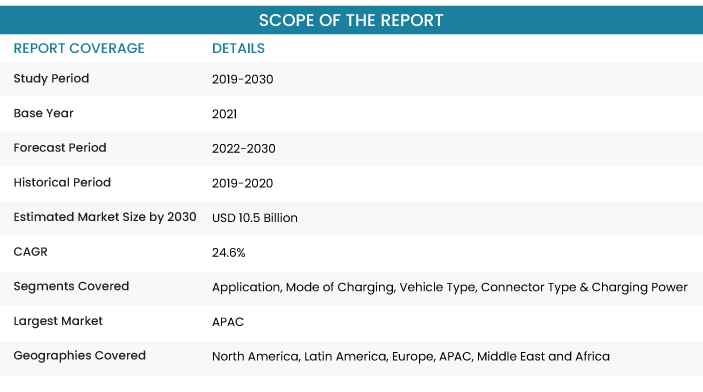 Critical Questions the Report Answers:
What is the global market size and forecast for the Electric Vehicle Fast-Charging System Market, to identify potential investment opportunities?
What are the major drivers, restraints, and opportunities, as well as an evaluation of their influence on the Electric Vehicle Fast-Charging System Market?
What are the key application trends of Electric Vehicle Fast-Charging System Markets in the last few years and across various geographies?
Who are the top solution providers of Electric Vehicle Fast-Charging System technology in the market?
What are the primary development tactics that leading firms are employing to stay competitive in the market?
What innovations have the potential to open new doors for the whole industry?
Which region has the largest share in the Electric Vehicle Fast-Charging System Market?