Global Cancer Diagnostics
Market Snapshot:
According to Ingenious E-Brain market study for the Global Cancer Diagnostics Market is predicted to grow at a Compound Annual Growth Rate (CAGR) of 11.6 percent over the projection period of 2022 to 2030.

Market Overview:
Cancer is one of the most common causes of mortality worldwide, and its incidence is increasing. As a result, healthcare practitioners focus on developing effective diagnostic and treatment solutions in order to determine the prevalence level. The number of independent diagnostic centres is growing globally as demand for diagnostic imaging treatments grows and public hospitals struggle to keep up with the restricted number of imaging modalities at their disposal.
The Global Cancer Diagnostics Market is flourishing, thanks to rising cancer incidence, an ageing population, increased use of personalized medicine in clinical practise, and the development of new revolutionary technologies like nanotechnology. However, a scarcity of experienced personnel and a high cost of diagnosis are two problems that are limiting industry expansion.
The report on the Global Cancer Diagnostics Market provides a comprehensive analysis of the industry. The research includes a detailed analysis of major segments, trends, drivers, constraints, the competitive landscape, revenue possibilities, modifications in market rules, product approvals, strategic choices, product releases, geographical developments, technical developments and other important market variables.
Market Dynamics:
Drivers:
Over the projected period, the cancer diagnostics market will develop due to an increase in the incidence and prevalence of various forms of cancer, such as breast cancer and lung cancer. Additionally, the cancer diagnostics business will profit from a spike in technical breakthroughs that help in improved imaging of malignant cells, improvements in equipment to detect the kind of cancer, and an increase in the efficiency of the findings throughout the projected period.
In the next years, market development is likely to be driven by increased government programmes and other private organizations aiming at boosting awareness about early cancer diagnosis and prevention.
Furthermore, a growth in the number of diagnostics laboratories in industrialized nations is likely to fuel the cancer diagnostics market in the future years.
Restraints:
Cancer diagnostics market expansion may be hampered by high-cost treatment and insufficient reimbursement policies in developing countries throughout the forecast period.
Challenges:
Many hospitals in impoverished countries are unable to invest in diagnostic imaging equipment due to rising prices, decreasing reimbursement rates, and budgetary constraints. However, due to the growing demand for diagnostic imaging services in these nations, hospitals that cannot afford to buy new imaging equipment opt to employ used equipment. Refurbished systems are less expensive than new systems, with prices ranging from 40% to 60% of the original purchase price.
Competitive Landscape:
The development of biopsy technologies for early cancer diagnosis is projected to assist major industry participants in the global cancer diagnostics market.
In addition, the use of artificial intelligence in cancer early detection is expected to increase the global cancer diagnostics market's growth in the future years.
During the study, the major industry participants identified are: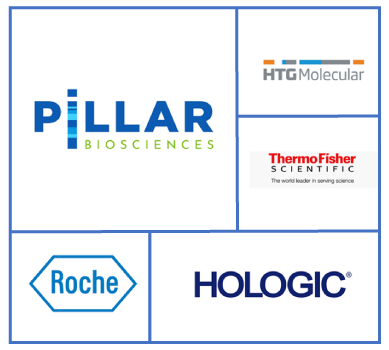 Major industry participants have been spending in new product development, partnerships, and strategic alliances such as mergers and acquisitions in order to improve their market position.
Key Developments:
Some of the key developments in the market are:
June 2021 – Inivata Ltd, a worldwide, commercial-stage liquid biopsy platform firm based in Cambridge, England, was acquired by NeoGenomics.
October 2021 – Roche has partnered with PathAI to combine artificial intelligence programmes with its digital pathology work, with the goal of accelerating Roche's development of novel medications and diagnostic tests.
November 2021 – In Europe, Hologic, Inc. released its new GeniusTM Digital Diagnostics System. The Genius Digital Diagnostics System is the next generation of cervical cancer screening, combining deep learning-based artificial intelligence (AI) with superior volumetric imaging technology to assist women discover pre-cancerous lesions and cancer cells.
February 2022 – Cleveland Diagnostics, Inc., a clinical-stage biotechnology company that develops next-generation diagnostic tools for cancer early diagnosis, has published a major real-world clinical utility study in Urology Practice, a peer-reviewed publication of the American Urological Association.
Market Segmentation:
The Global Cancer Diagnostic Market is segmented by type, technique, cancer type, end-user and geography.

Global Cancer Diagnostics Market, By Geography: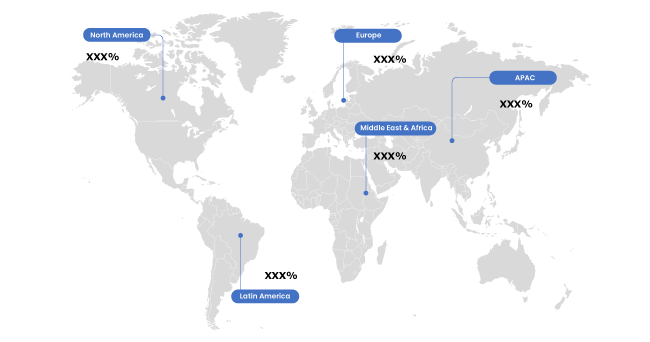 In terms of geography, the cancer diagnostics market in North America is the largest. Increasing cancer rates, as well as increased medical tourism, improved health-care materials, an increasing population, and significant public education and government legislation, will all help the cancer diagnostics market grow in the North American area.
In the cancer diagnostics industry, Asia-Pacific is the fastest expanding region. Growing urbanization and an increase in cancer cases throughout the world are driving the cancer diagnostics market in the Asia-Pacific region.

Critical Questions the Report Answers:
What is the market size and forecast for the Global Cancer Diagnostics Market, to identify potential investment opportunities?
What are the major drivers, restraints, and opportunities, as well as an evaluation of their influence on the Global Cancer Diagnostics Market?
What are the key application trends of Global Cancer Diagnostics Market in the last few years and across various geographies?
Who are the major vendors in the Global Cancer Diagnostics Market?
Which region has the largest share in the Global Cancer Diagnostics Market?